The Sky is the Limit
Help Our Kids Soar
The 2021 motto selected by our Potentate and Lady Marcy "The Sky's the Limit; Help Our Kids Soar" which plays off both the aviation vocation of our Potentate, and our desire to help Children improve their lives through our Philanthropy.  We are dedicated to the care and treatment of children with orthopedic, burn and other medical injuries and issues, without regard for the families ability to pay.
Our Shrine Center, located in Hastings Nebraska, received its Charter on June 6, 1919. Tehama serves about 55,000 square miles of Central and Western Nebraska. Our boarders are from US Highway 81 to the Wyoming border and from Kansas to South Dakota.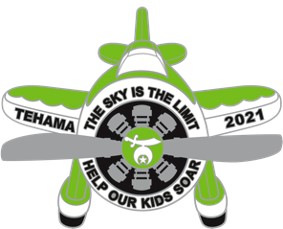 Dear Nobles and Ladies: It is my esteemed honor, along with my Lady Marcy, to invite you and your Lady to join us for a Day...